Need to rent an instrument to get started? Or, have one of your own you need help getting fixed up? We can help!
Rentals
We offer rentals through the National Education Music Company and been affiliates of theirs for over 20+ years for the following reasons:
Every instrument goes through a 35-step refurbishment and quality-certification process.
They have a top-of-the-line repair center stocked with factory parts as well as the means to custom make or modify parts no longer available.
They're well-acquainted with what students need!
If you want more information, pricing, and more information on how to rent a band instrument … click here to get started! This will take you to a rental page (in a new window / tab) through the National Education Music Company and creates a smooth process.
Non-band instruments, reach out to us and we'll provide additional details. We'll always give you the right instrument to help with any music lessons!
Need help with the rental process? Check out our quick rental tutorial below!
Repairs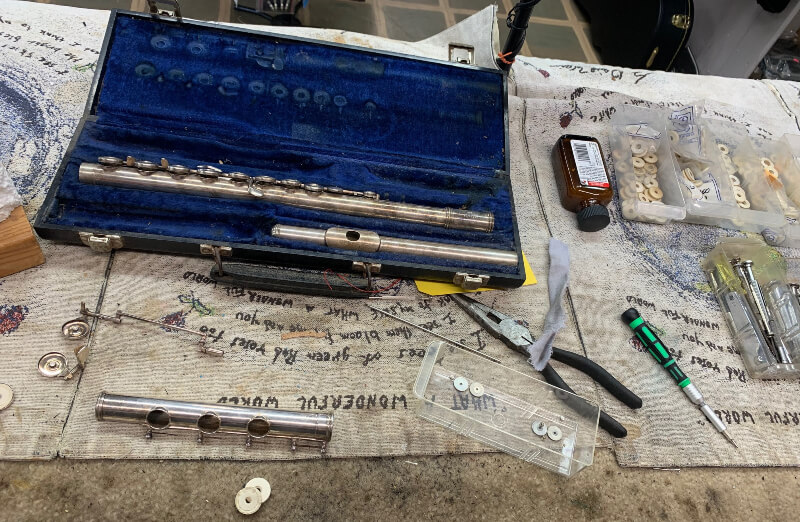 In-house, Iocal repairs from people who aren't out to charge you crazy amounts for their effort. How's that sound?
We treat you – and your instrument – like you'd want to be treated, with clear communication, an upfront estimate, and the care you'd expect a musician to give to his / her own.
With our decades of experience working on instruments of all kinds, you can know you're trusting someone who takes care of all the small details (just like you would).
So no matter if it's a broken string, needed tune, re-gluing a pad, or something more serious, we're here to help.
Need something new instead?
Here's some of the brands we carry, and we offer very competitive pricing + rent-to-own options.
Stop by to take a look in person, or give us a call to ask about your preferred instrument and what options we have available!

We also have a massive amount of accessories available, from drum pads to chin rests, music books to digital tuners, and even kazoos. (You read that right.)